I N V I T A T I O N
Self Care Thursday at The Churchill Center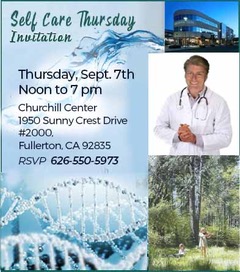 Please join us for Self-Care Thursday
September 7, 2023, from 12 noon to 7:00 pm
Churchill Medical Center
1950 Sunny Crest Drive, Suite 2000
Fullerton, California 92835
RSVP: 310 351-6474 Text or Call
or email: info@thechurchillcenter.com
As our honored guest, you and a rich network of friends, associates and family members will discover an individualized path to optimum beauty, health and wellness. 
This special event is a celebration of the start of our new partnership: The Churchill Medical Center powered by Top Doctor Magazine and TopDoc Clinics—including the Palm Desert office and Medical Tourism!
This monthly occasion is presided over by the esteemed medical practitioner, keynote speaker and television personality Dr. Dana Churchill, Founder of The Churchill Center.
At this special event. you will be immersed in ways to achieve:
Peace of Mind
Diminished Stress
Inner Radiance Revival
Nutritional + Natural Longevity
Peak Physical & Mental Well-being
Comprehensive Beauty & Aesthetics*  
At Self Care Thursday: Dr. Dana Churchill will debut his new program Holistic Beauty Inside & Outside. 
Ten! Health Coaches – Thought Leaders – Mentors and Personal Trainers will guide you to begin the fitness and nutritional program you have longed for!  To include counseling on the importance of Lab work, Nutrition in Diet with a Culinary  Demonstration & Sampling, Deeply Discounted Treatments, Injectables and Natural Medicines that treat the root cause of what ails you, not only the symptoms.
Join in the conversation. Ask the questions in group (or in private) that you hesitated to ask and always wanted to know.
Sample, test and partake in the latest groundbreaking medical devices, meet the purveyors of the most inspirational naturopathic products.
Achieve the natural beauty and wellness you desire. Ditch the chemicals and embrace the power of nature!
Need an adjustment both body and soul?  Dr. Joshua Cho, esteemed chiropractor will be on hand to 'give you a leg up'.
The big news is Dr. Churchill is introducing two new serums he has compounded : Gravity Defense Stem Cell Facial Serum and Gravity Defense Stem Cell Eye Serum.
Deep discounts and FREE STUFF! Featuring Exosome Facials, IVs, Herbal Tinctures (compounded by Dr. Churchill for a host of conditions), peptides, vitamin injections hormones and more.
ENJOY FREE & DISCOUNTED TREATMENTS
FREE! Hydration IV, B12 IV, B12 shots
FREE! Testosterone Shots for men and women
FREE! Oxytocin shots for women 
1.    Treatment: 50% off: Meyers cocktail IVs, or Glutathione IVs and Vitamin C IVs (the best IVs for total skin rejuvenation): $175.00 each.
2.    Treatment: 50% off:  CO2Lift Mask | Carboxy Gel Single Treatment | Face Mask:  Under Eye Treatment for Puffy Eyes & Dark Circles | Tighten & Brighten Face & Eye Area,  Hydrate.
3.    Product: 50% off:  Gravity Defense Facial Exosome Serum
$175.00 & Eye Serum $160.00.
4.    Treatment: 25% off : LIMFA: therapeutic magnetic therapy for bone, muscles, joints, tendons, ligaments: regenerates tissue, decrease inflammation, reduce edema,  pain reduction, and relax!
$175.00/45 min.
5.    Treatment 25% off: Shockwave: therapeutic for any pain or loss of range of motion:  muscles, joints, tendons, ligaments: regenerates tissue, decrease inflammation, reduce edema,  pain reduction.   $100.00/treatment body part.
6.    Treatment: 25% off: NAD shots ($50.00), Terminator shots $40.00, Honey Badger shots: Mag, Glutathione, and Lipo fat burner $40.00.
7.    Free Food, Education and Fun:  Come join us on Thursday, September 7th from Noon to 7;00 pm.
If you don't see it here ask, we may be able to do it …
For all appointments booked on Self Care Thursday, patients will be gifted 25%-50% savings on consultation fees and packages! 
15-MINUTE SHORT LECTURES ALL DAY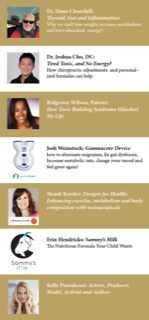 Refreshments and Beverages Served.
Sincerely IN Good Health, 
Dr. Dana Churchill